The Lucenzo biography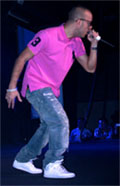 A real showman
Author, composer and singer, Lucenzo, a french and portuguese descent, is a passionate of music, starting piano at 6 and singing at the age of 11. Today at 28, Lucenzo is a well-know Latino and Lusophone artist who bathed in the world of Kuduro & Reggaeton since his childwood.
His producer Faouze Barkati discovers this musical trend while traveling the world and decides to know more about this musical phenomenon created 25 years ago. With Fabrice Toigo, his second producer, Lucenzo creates a new and innovative style: the fusion of Angolan and Portuguese music, with songs in Portuguese, Spanish and English. The result is exceptional and gives birth to the Kuduro Dance Floor. The famous hit "Vem Danzar Kuduro" was created, directed and mixed by Lucenzo in Yanis Records Studio.
2010 - Vem dançar kuduro (with Big Ali)

Big Ali & Lucenzo
After several #1 hits like "Emigrante del mundo, Reggaeton Fever and Dame Reggaeton" on Radio Latina, Lucenzo meets with Big Ali on an original and unique artistic collaboration. "Vem Dançar Kuduro" mixing the sounds from Africa, Portugal, Brazil and the US, furiously entertains the dance-floors of the world. The song gets viral in Youtube generating more than
18 millions views
, and rapidly becomes a
hit in France and Europe for more than 5 months
.
Lucenzo Ft. Big Ali - Vem dançar kuduro (Official video clip)
#1 hit in Clubs in France
#1 on Radio Latina
#2 of the singles sales in France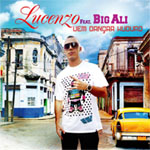 The channel MTV Idol places the song among the most famous hits of summer 2010. Vem danzar Kuduro wide-spread in Europe enters the European Top 10, and crosses the Atlantic to Canada as #2 on the radio stations.
The success of "Vem danzar Kuduro" creates a real passion. It also led to the set-up of flash-mobs throughout France with public Kuduro dance choregraphies (Eiffel Tower, Malls, etc.). Paris - Eiffel tower (AM Entertainment Group)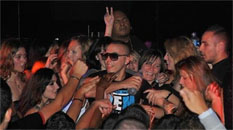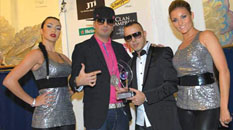 Trophy for Best Artist of the night 2010
Lido (Paris)
2010 - Danza Kuduro (with Don Omar)
This new version hits Youtube on August 17, 2010 in the US and South America. At this day, there are more than 250 millions viewers on Youtube only for the official video (Lucenzo & Don Omar - Danza Kuduro) and more than 370 millions (cumulated data) for the work of Lucenzo. The success is instantaneous and conquers the charts of several countries: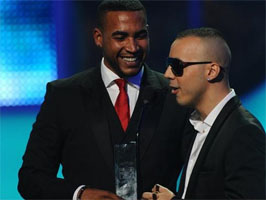 USA, Colombia, Argentina and Venezuela
... :
# 1 US Latin Pop Song Billboard
# 1 US Tropical songs Billboard
# 1 top 100 Argentina, Colombia, Venezuela The hit dominates the Tropical category in the Latino Billboard. It also was #1 on the tv channels, MTV3, HTV and MUN2 and the #3 most watched music video on Youtube/Vevo.
Lucenzo & Don Omar wins unanimously awarded "Premio Latin Rhythm Airplay del Año" at Billboard Latin Awards 2011. On the night of April 28 to 29, 2011 at Miami.
2011 - Emigrante del Mundo (Album)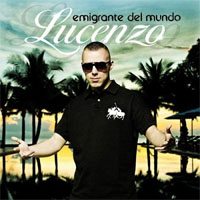 Lucenzo will release his 1st album "Emigrante Del Mundo" which is described as a sparkling mix of rythms and colorful languages following the same successful path as his first singles.
The album is composed of 13 title whose "Throw your hands up" a remix of "Danza Kuduro" with Qwote and Pitbull Throw your hands up - Qwote Ft. Lucenzo & Pitbull (Official video clip), and more ...
Contact booking
E-Mail
-
Phone :
+33 6 11 62 33 89